MAY 17 2022
mood:
avoiding responsibility
listening to:
naked giants - green fuzz
i wish people realized how emotionally draining painting commissions can be. especially if it's a portrait or a pet. especially if that person or pet is dead. anyway, i have a few commissions i'm working on right now. some are cool, some not so much. i'm trying to get by making art while using social media as little as humanly possible. i'll probably end up making a professional site here on neocities for art/business just so i have a place to park my stuff if anyone asks.
MAY 8 2022
mood:
caffeinated
listening to:
the damned - alone again or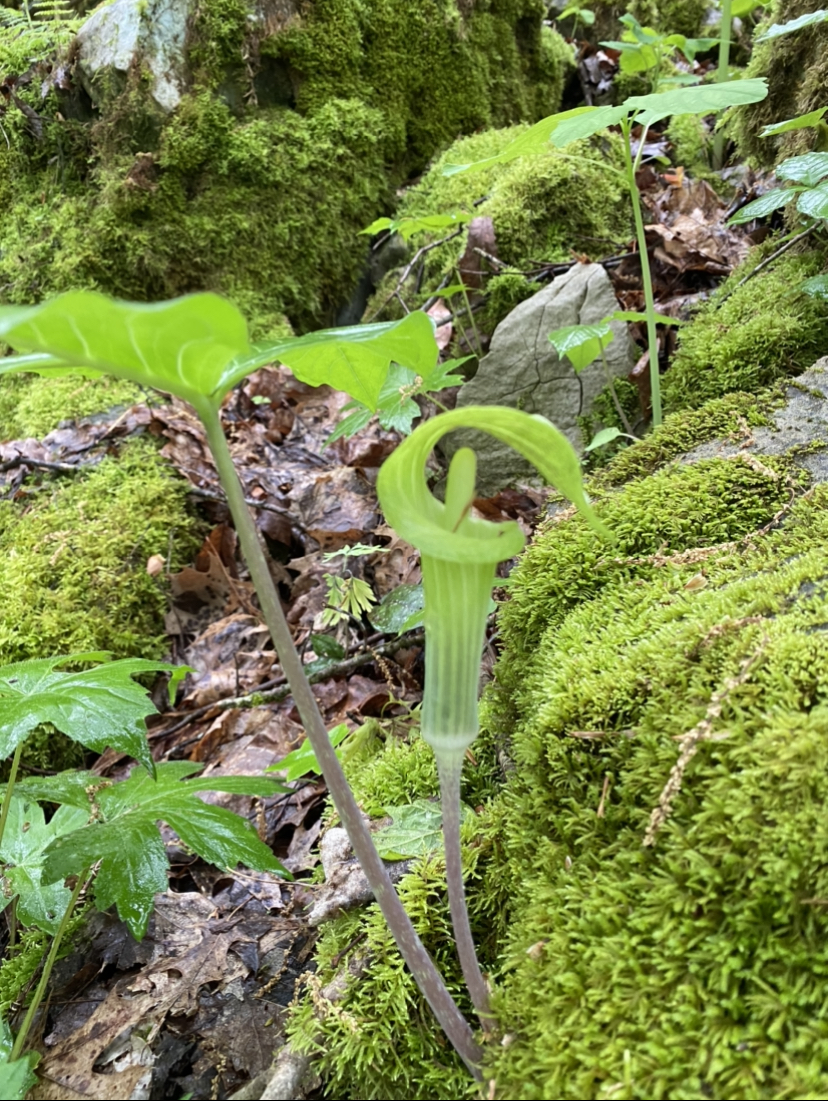 people are too peopley these days. today is my last day at my old job and hopefully my last day in the service industry altogether. the weather has been beautiful. my flowers are starting to bloom. i went hiking really early in the morning and the leaves were all brand new and saturated in lime green. i found a jack-in-the-pulpit which i just learned is also called a bog onion?? just silly ass names for that plant all around. i love it. i also learned that sycamore trees always lead to water and you can track the direction of water sources based on the treeline.
APR 25 2022
mood:
uhhh?!
listening to:
boy harsher - machina
wow hey blog, it's been a minute. i have been in the middle of some life stuff lately and haven't had the time to sit down and do my own thing for a while. since my last post i decided to say fuck it and start looking for new work since i've been kinda miserable. i ended up getting hired by someone doing the same type of cool shit i like doing (sorry to be vague but it's basically a fabrication shop for an events company). so hopefully that works out and leads to something good? if not, that's okay too.
i had a really big birthday where i entered a whole new decade and younger me would have thought current me is old as fuuuck lol. my 20s were exciting but also full of stress and tragedy so i'm interested to see what this decade brings.
FEB 20 2022
mood:
productive
listening to:
cut worms - sold my soul
at a super weird impasse right now where i keep having tiny crises about what i'm doing with my life and where i want it to go. i've been in a blue collar trade for years now and while i like what i do, i don't see myself doing it for much longer. it's really affecting my health and the pay is honestly not worth it for what it physically takes out of me. ultimately i want more time and energy to work on my own stuff at home. if i'm gonna break my back it might as well be for something i actually give a shit about. i started looking into remote jobs a while ago and i think i might jump back into that and see how it goes. it's sad coming to this conclusion because it feels like i'm breaking up with a part of myself that i've worked for years to develop and that i'm very proud of, and abandoning it for comfort and money which might not even give me what i want. not saying i don't deserve those things but it feels like selling out in a way.
it'snotthatseriousthoughi'mjustinmyfeelingsaboutit
FEB 8 2022
mood:
weary
listening to:
haley heynderickx - the bug collector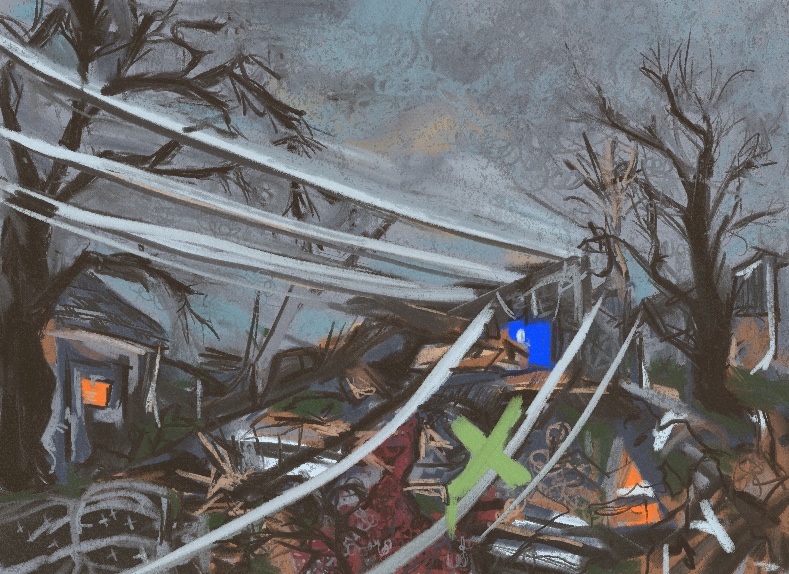 long time no see. two months ago, a few weeks after i joined neocities, a massive tornado came through my city of residence and destroyed a lot of things in the middle of the night. my home was (literally) one street over from the touchdown and it feels like a miracle that it's still standing. every single tree and power line was torn out of the ground, every car flipped, every roof shaved off, just one street over. FEMA and the national guard patrolled my street for weeks afterward. the power was out for almost a month (it was very cold), the roof is still covered in tarps, everything outside is still fucked up, and i just recently got hooked back up to the internet, but i made it and now we're here.

the whole thing was scary and surreal, but mostly very sad. i saw a lot of things i wish i could erase from my mind. it will probably take a very long time to process.

normally i keep myself at arms length from material possessions and remind myself that everything is temporary and stuff is just stuff. but "stuff" can also hold so much weight in our souls, which i often forget until i witness a loss this great. i came out of this experience more grateful than i ever have been, not just for stuff but for the generosity of total strangers and the power of community.

one goal that i have for this year is to cultivate a nice container garden in order to brighten up the space behind my house. i created a workshop page to post DIY projects i'm working on, so it'll prob end up there. it's good to be back <3
DEC 4 2021
mood:
meh
listening to:
rza - you can't stop me now
ye olde spotify wrapped results: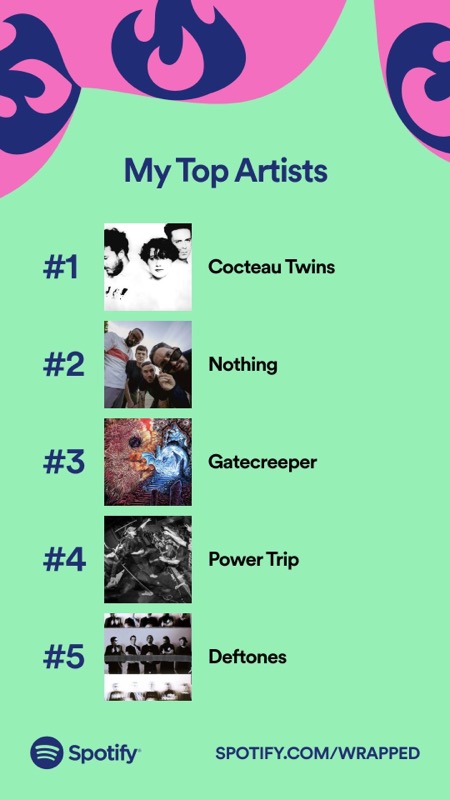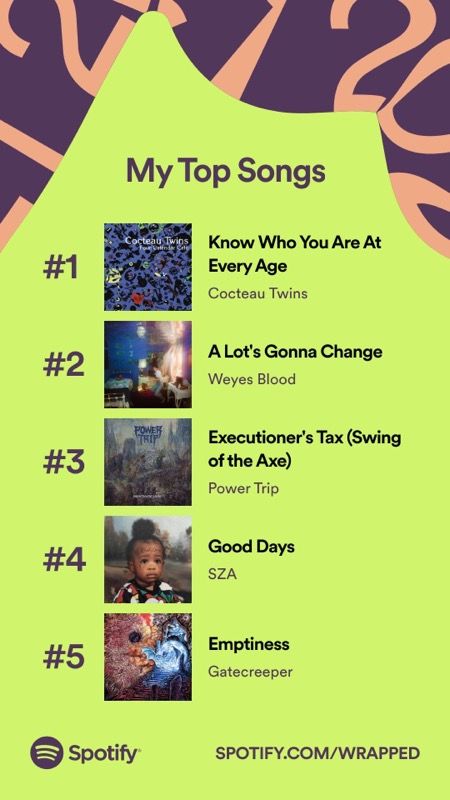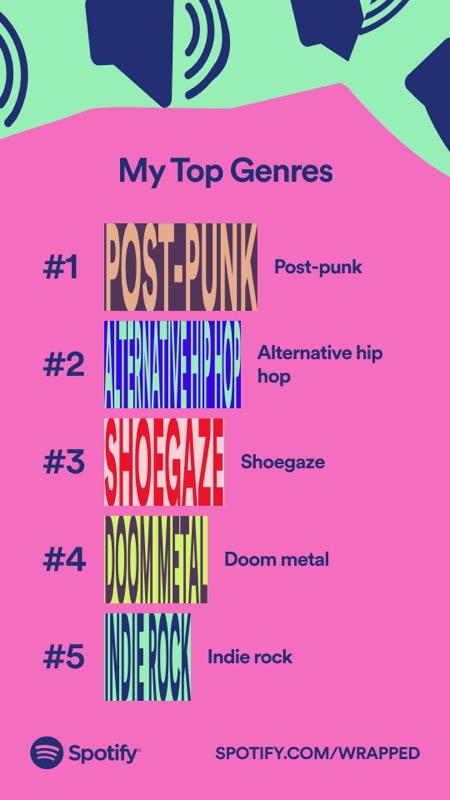 NOV 20 2021
mood:
productive
listening to:
the gun club - "mother of earth"
this site was born during a very slow week where i spent a lot of time at a computer trying to look busy. I've been needing a place like this for a while. Just like many other denizens of early-00s internet, I missed having a space carved out for myself on the web that was free from rigid formatting and algorithms. I'm mostly here because I'm a sentimental pack rat who likes organizing all my shit (both real and imagined) in ways that i think look nice. and i really love seeing all the spaces others have built here.
I debated whether or not to keep this site anonymous, but ultimately it feels useful to document some personal stuff as well. In real life I get paid to make things for other people and my social media accounts are only really used for work-related stuff. so a semi-faceless blog is a good outlet for me to share things from a more organic place.
i want to post some artwork here and there but i'm still unsure of what and how much to share... so we'll see. i'm still trying to figure out what i'm going for.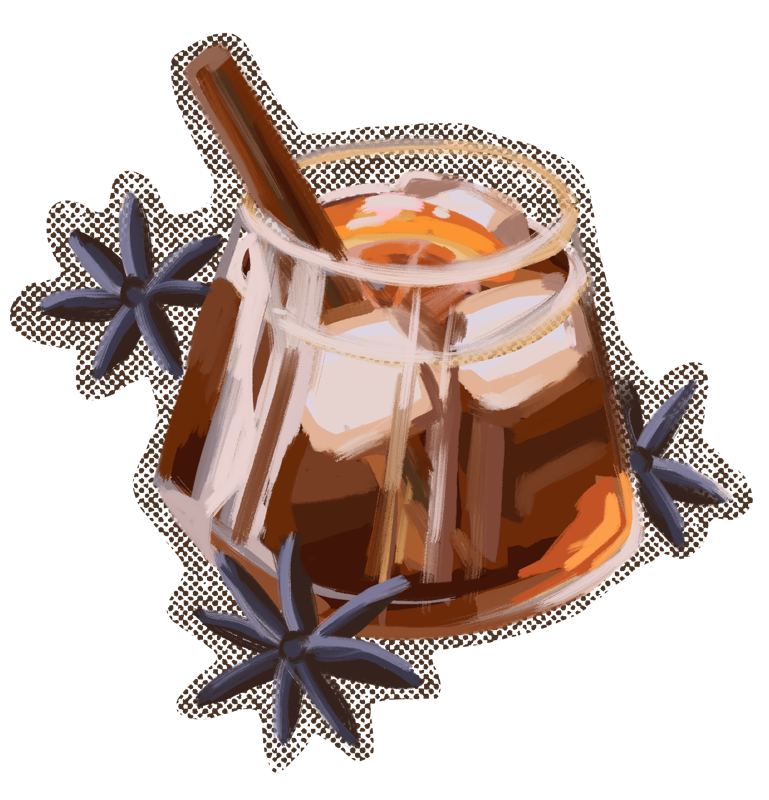 It's starting to slide into winter and I'm looking forward to getting a workspace set up in my house so I'm not freezing my ass off at my bench in the garage. the holidays are always a busy season and it's the only time i ever really miss smoking cigarettes. my local bar makes this super good drink that I can't stop thinking about so I've been trying to recreate it at home. it goes like this:
bourbon \\ chai tea \\ black walnut bitters \\ orange & cinnamon simple syrup \\ brown sugar \\ star anise